The historic city of Rome spells an exotic blend of culture, ethnicity and architectural splendor. Think of Rome Italy vacation and what comes to mind are The Vatican, St. Peters Basilica and monuments, squares and fountains, palaces, villas and gardens, museums and galleries. The focal point of tourist attraction is the remnants of Roman Empire and the early Christendom. Rome vacation is for all - for singles, families or those who wish to have an unforgettable Roman wedding and a magical honeymoon.
Pictures of Rome Italy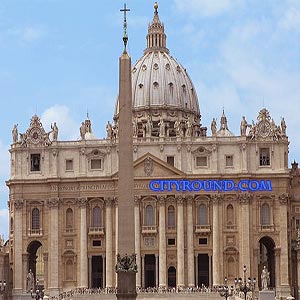 Know thy destination
Rome is Roma in Italian language. Rome is the capital city of Italy and of the Lazio region, on the continent of Europe. It is said that twins Romulus and Remus traditionally founded the city of Rome from a small group of villages on seven hilltops. The 'Seven hills of Rome' include the Capitoline, Palatine, Viminal, Quirinal, Esquiline, Caelian and Aventine hills. The city has been inhabited since the 8th century BC.
Rome is an important tourist center in the world. Every year millions of tourists visit Rome. When you get there, the sights and sounds of Rome will remain embedded in memory for years to come. There is so much to savor so find what interests you and make a list of places to visit.

Must visit places in Rome
Ancient Rome Sites: For a retreat into history, visit the ancient sites of Rome. Most ancient sites are in Rome's historic center; and can be covered in a day-long walking tour. Admission too is free to most of the sites. Amongst the ancient monuments, the Colosseum of Rome (year 70-72) occupies pride of place thus making it an important tourist attraction. Located in the center of the city, the spectacular amphitheatre is a masterpiece of Rome architecture. For nearly 500 years, close to 50,000 spectators were entertained to gladiatorial contests and other public spectacles. Time has taken its toll.
Today, it is impractical to use the Colosseum to host large events. Currently, large concerts are held just outside, using the majestic elliptical-shaped Colosseum as a backdrop. The list of very important monuments of ancient Rome includes the Pantheon, the Roman Forum, Baths of Caracalla, Trajan's Market and the Catacombs of Rome. Art galleries, gardens, and shops selling food and drinks located enroute make your trip fulfilling, comfortable and satisfying. Souvenir vendors spread across the area ensure tourists take back home captivating mementos of Rome.
Squares of Rome, Italy
The word 'piazza' refers to an open square in a city. All the five squares of Italy namely Piazza di Spagna, Piazza Navona, Piazza Venezia, Piazza del Popolo and Campidoglio are equally attractive. The shape, design and purpose of use are unique. No wonder, the squares are considered 'the core' of the city itself. The vast space serves as a meeting place, to amuse, chat with friends, and for events or for the daily 'happy hour'

Piazza di Spagna: A masterpiece of the XVIII century, the square has monumental Spanish steps that connect to the French church of Trinita dei Monti.

Piazza Navona: The main attraction of the square is a fountain designed by Gian Lorenzo Bernini. The church of Sant'Agnese in Agone, also built by Bernini stands in front of the Fountain. Apart from the fountain of four rivers that dates back to the year 1651, monuments and buildings are other attractions of Piazza Navona.

Piazza Venezia: Pope Paolo built the square in 1445 while he served as a cardinal. The piazza derives its name from Palazzo Venezia that lies on the western side. Mussolini is said to have delivered speeches from the balcony of Palace Venezia.

Piazza del Popolo: A place for public executions till 1826, travelers upon arrival in Rome, before the introduction of railroads, had a quick glance from this square. Two identical neoclassical buildings on each side of the square add to its artistic splendor.

Campidoglio: Michelangelo is the architect who designed this square in the 16th century. There are two palaces on the opposite sides. Campidoglio is a classic example of Renaissance architecture.
Fountains of Rome, Italy
Trevi Fountain, dating back to 1735 is famous for its excellent water. It is believed that whoever throws a coin into the fountain over the shoulder, will return to the eternal city of Rome. Fountain del Tritone, Fontana della Barcaccia, Fontana dei Fiumi are standing examples to prove the everlasting work of art in Rome.
Churches and museums of Italy, Rome
There are over 900 churches in Rome, the most spectacular being St. Peter's Church, The Sistine Chapel, San Giovanni in Laterano church, San Paolo fuori le mura and Santa Maria Maggiore church. The Vatican Museums, The Capitoline Museum, Galleria Borghese offer ample insight into the history of Rome. The museums house ancient articrafts, antique sculptures, paintings and other exquisite works of art.
Palaces, villas and gardens of Rome, Italy
Many of the magnificent palaces were once the residences of Popes and kings. Palazzo del Quirinale, Palazzo Montecitorio, Palazzo Madama and Palazzo Chigi are worth visiting. These were built between 15th and 18th century. You get to see the furniture, several antiques and modern works of art displayed for public viewing. The vast villas and gardens in Rome offer a perfect romantic setting. The Villa Borghese, Villa Pamphilj, Pincio, Gianicolo are all enchanting villas to be visited in Rome.
Where to stay in Rome, Italy
Confirm your accommodation in advance. Simple-style hotels to luxurious five stars establishments or villas or apartments - a wide range of alternatives are available to match one's requirement and budget. If you want to get away from the chaos of the main city, rural farmhouse accommodation can be selected.

Shopping in Rome, Italy
The endless choice of shopping opportunities in Rome, can by itself occupy a tight itinerary. You can look out for famous designer labels in Italian fashion, old traditional craftsmen's shop that sell chairs, armchairs and other household objects made from wickerwork. Look out for expert wrought iron forgers' laboratories in via degli Orsini. For Rome vases and other painted ceramic pieces, shop in Via Santa Dorotea.

A typical Mediterranean climate prevails in Rome. The ideal time to visit Rome is in spring and autumn, when the skies are blue, the weather is pleasant, and the sites are not crowded. Rome is most comfortable from April through June, and from mid-September to October.